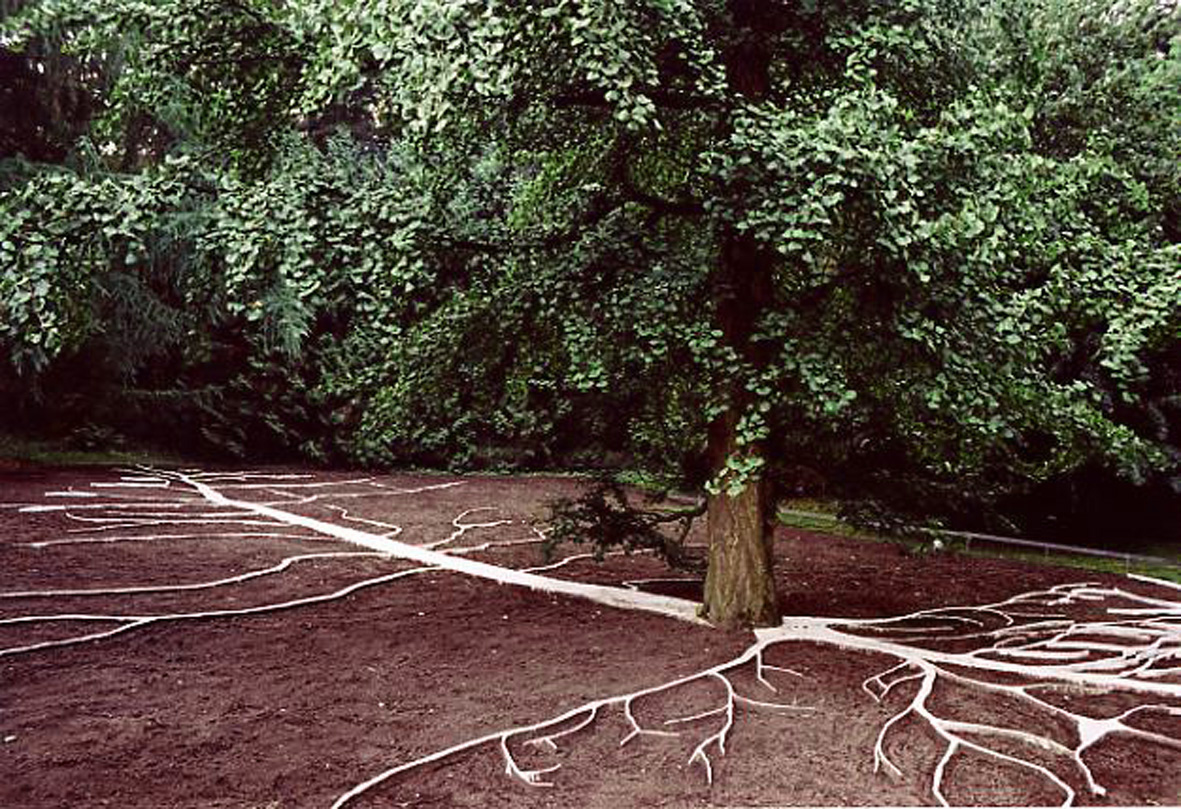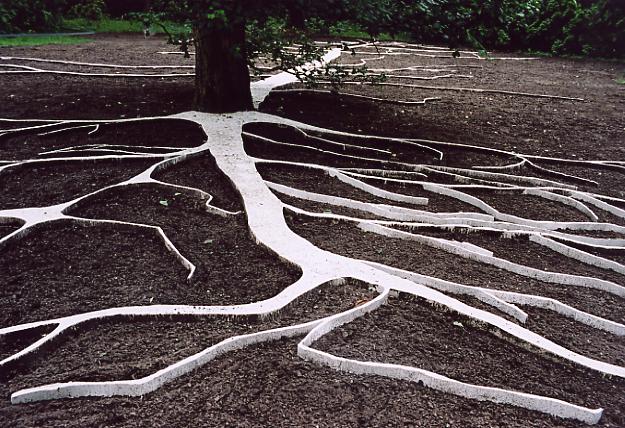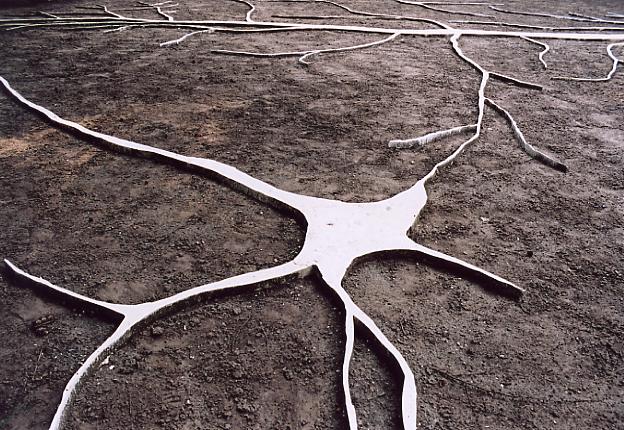 'Memory tree'
Temporary project at Schovenhorst Estate, Putten, The Netherlands. 2004
Materials: plaster, dimensions: 25×20 metres, height 5 cm.

The Schovenhorst Estate boasts an extraordinary collection of trees, including Ginkgo Biloba. 150 million years ago Ginkgo grew all over the world. Today, Ginkgo was extinct everywhere except in China. Collectors exported the tree from China in the nineteenth century. In China and Japan the seeds of Ginkgo are traditionally used as a remedy for amnesia.

The Ginkgo tree is surrounded by a vast relief. One side shows a section of the tree's root system – all too often the roots of a tree are forgotten. The other side shows a relief of a bare winter tree. In summer, when the tree is in full leaf, we can hardly remember what the tree looked like in winter; our memory fails us.
Between the roots and at the ends of some branches we find the twists of memory.
Dutch/ Nederlands
'Boom van het geheugen'
Tijdelijk project op Landgoed Schovenhorst, Putten. 2004
Materiaal: gips, afmeting: 25 x 20 meter, hoogte 5 cm.
Landgoed Schovenhorst heeft een bijzondere bomenverzameling waaronder de Ginkgo Biloba. 150 miljoen jaar geleden kwam de Ginkgo over de hele wereld voor. Fossielen van de boom zijn hier terug te vinden. Hij was overal uitgestorven behalve in China. In de 19de eeuw werd de boom door verzamelaars uit China gehaald.
De zaden van de Ginkgo worden in China en Japan van oudsher gebruikt als middel tegen geheugenverlies.

Rond de Ginkgo boom ligt een wijds reliëf. Aan de ene kant ligt de doorsnede van het wortelstelsel van de boom, de wortels onder de grond vergeten we vaak. Aan de andere kant van de boom ligt een reliëf van de kale winterboom. In de zomer als de boom vol in blad is kun je je moeilijk herinneren hoe de boom er in de winter uitzag, het geheugen laat je in de steek.
Tussen de wortels en aan uiteinden van enkele takken bevinden zich de kronkels van het geheugen.