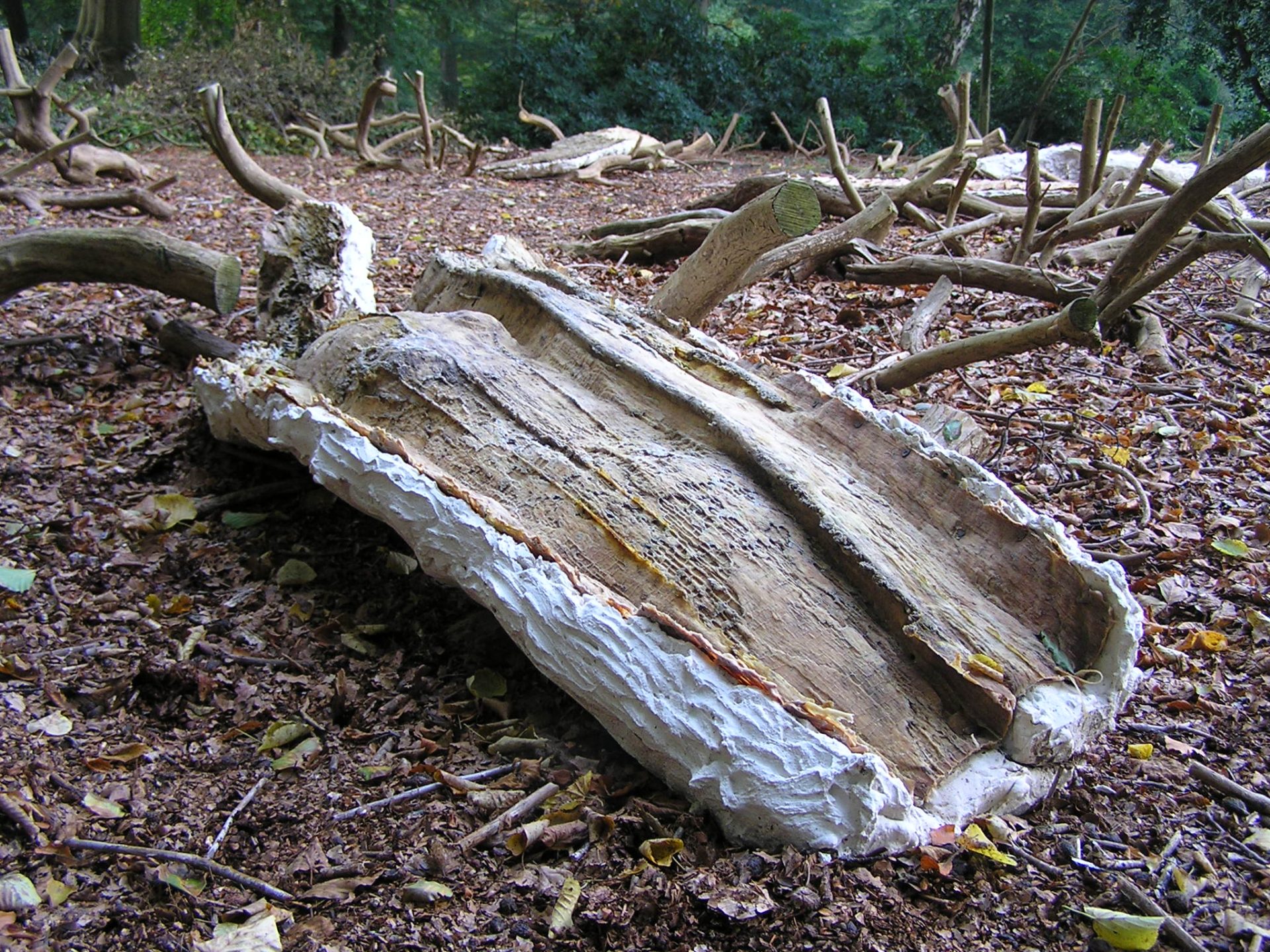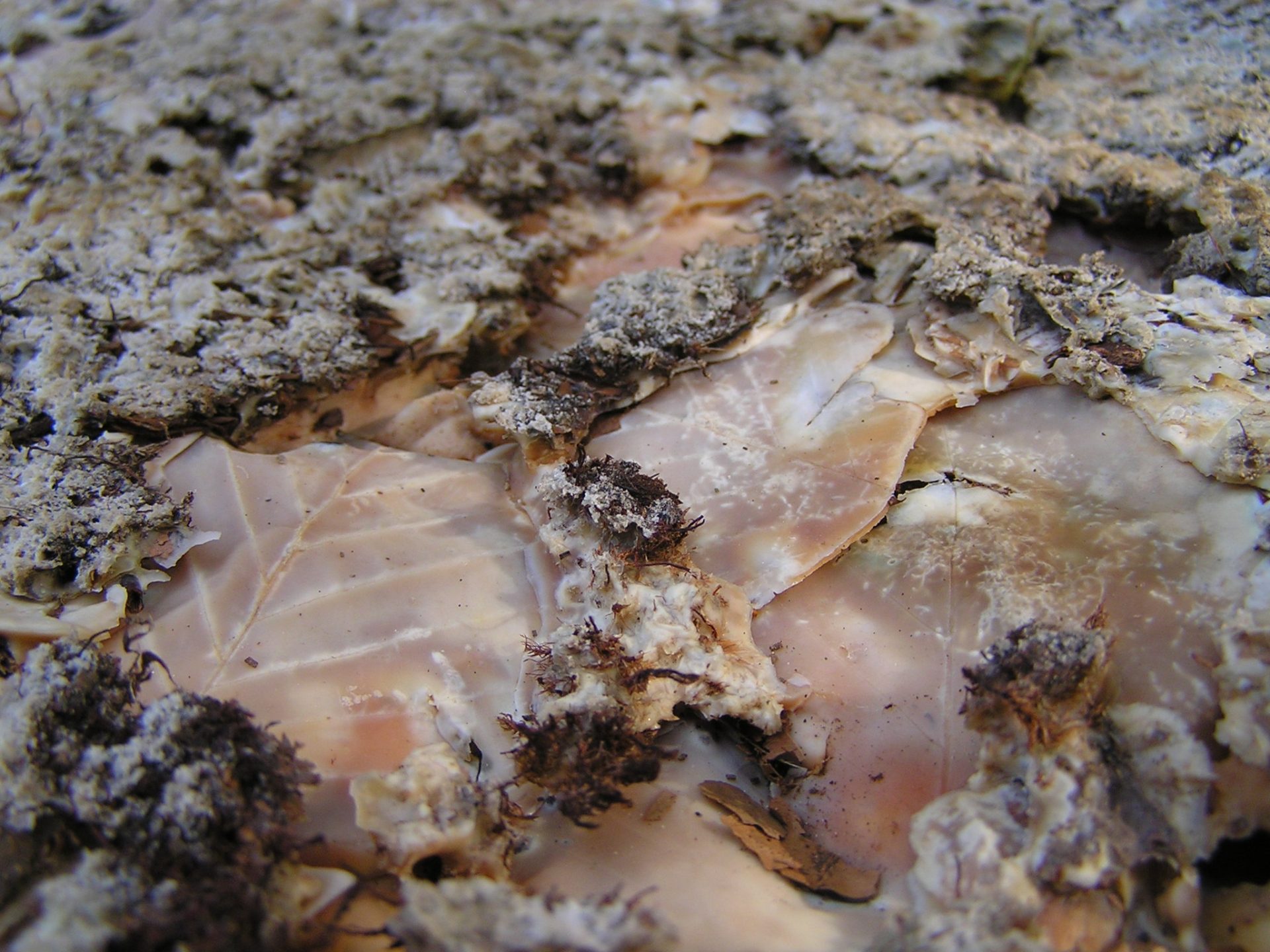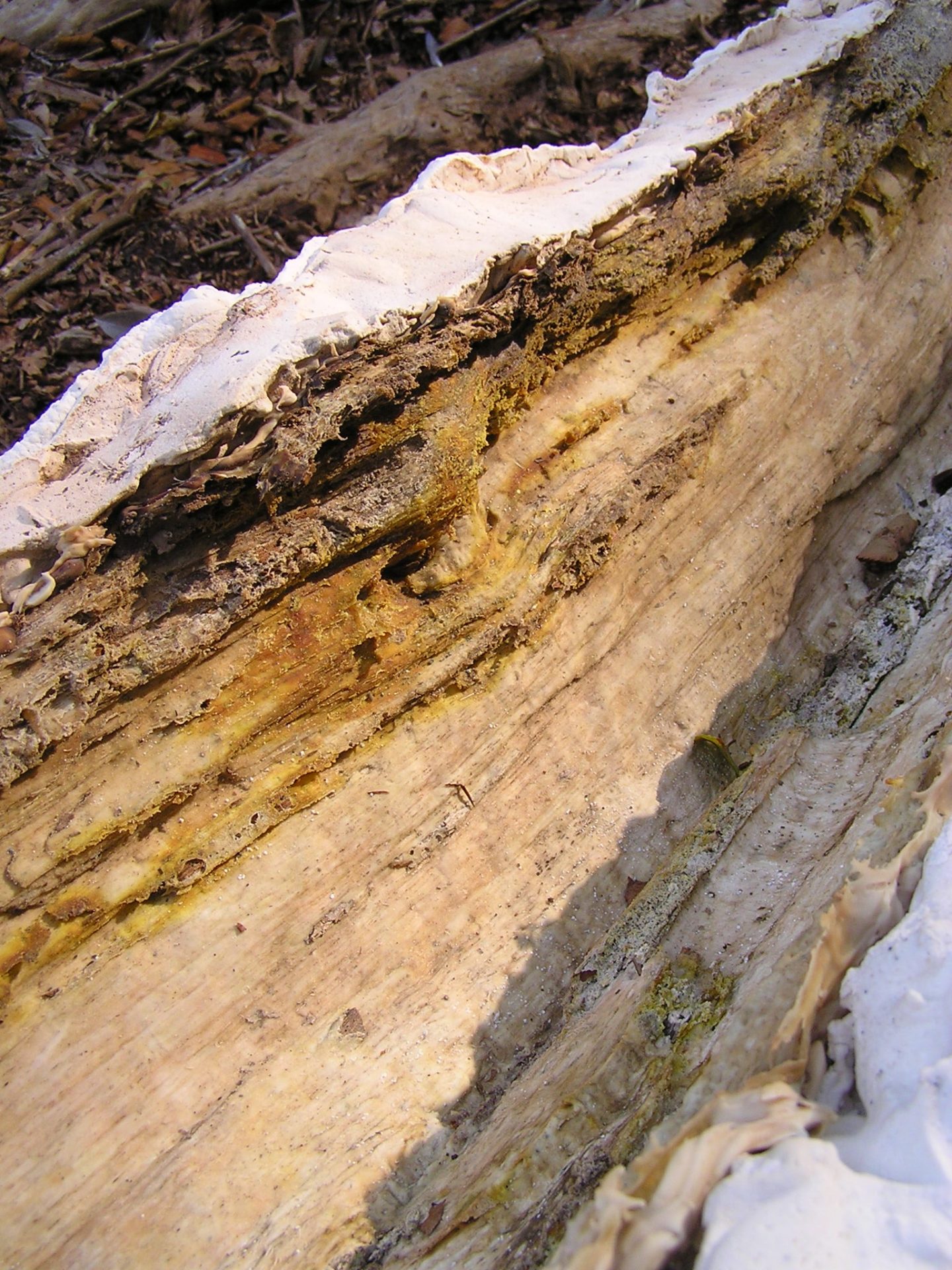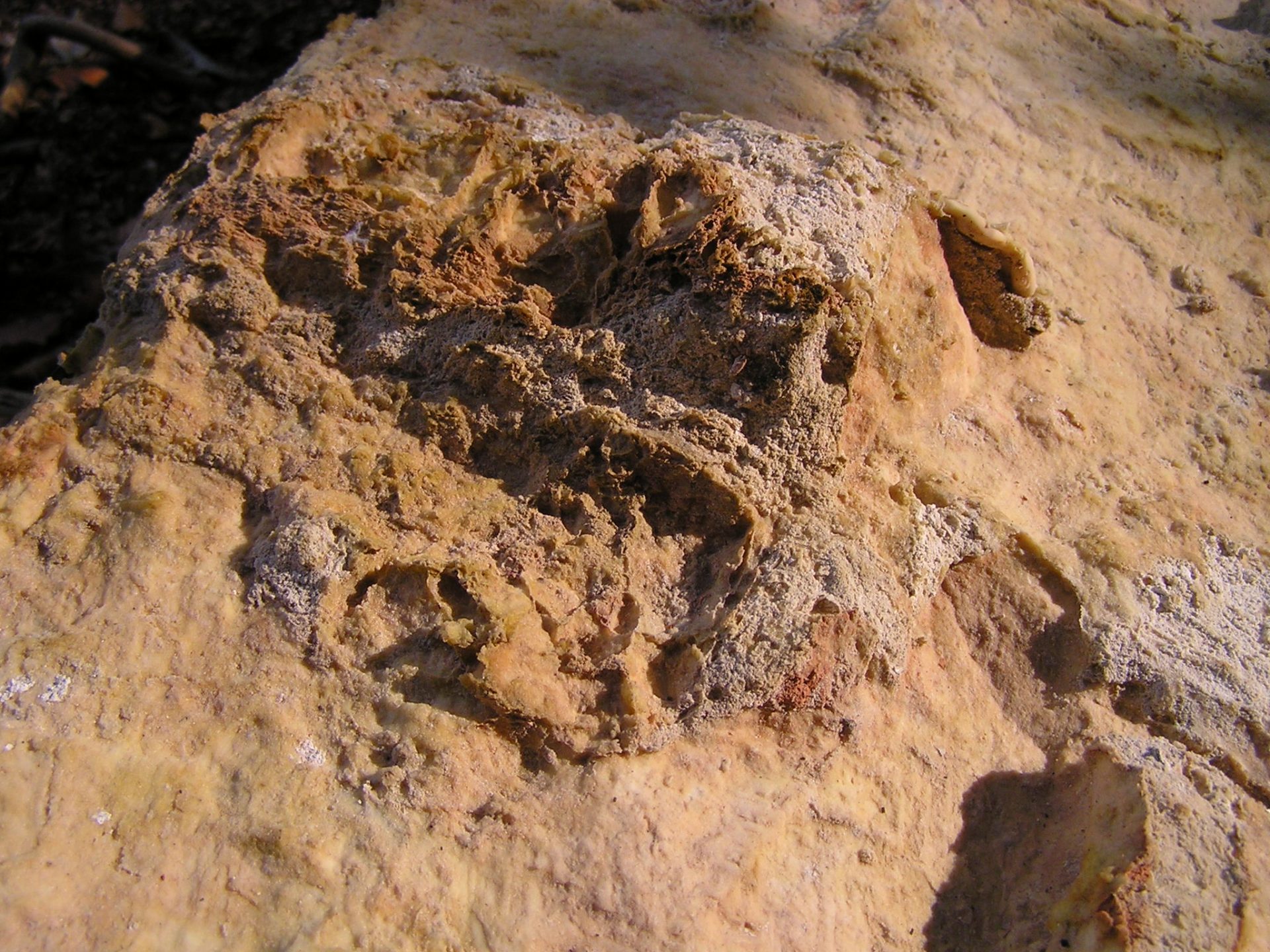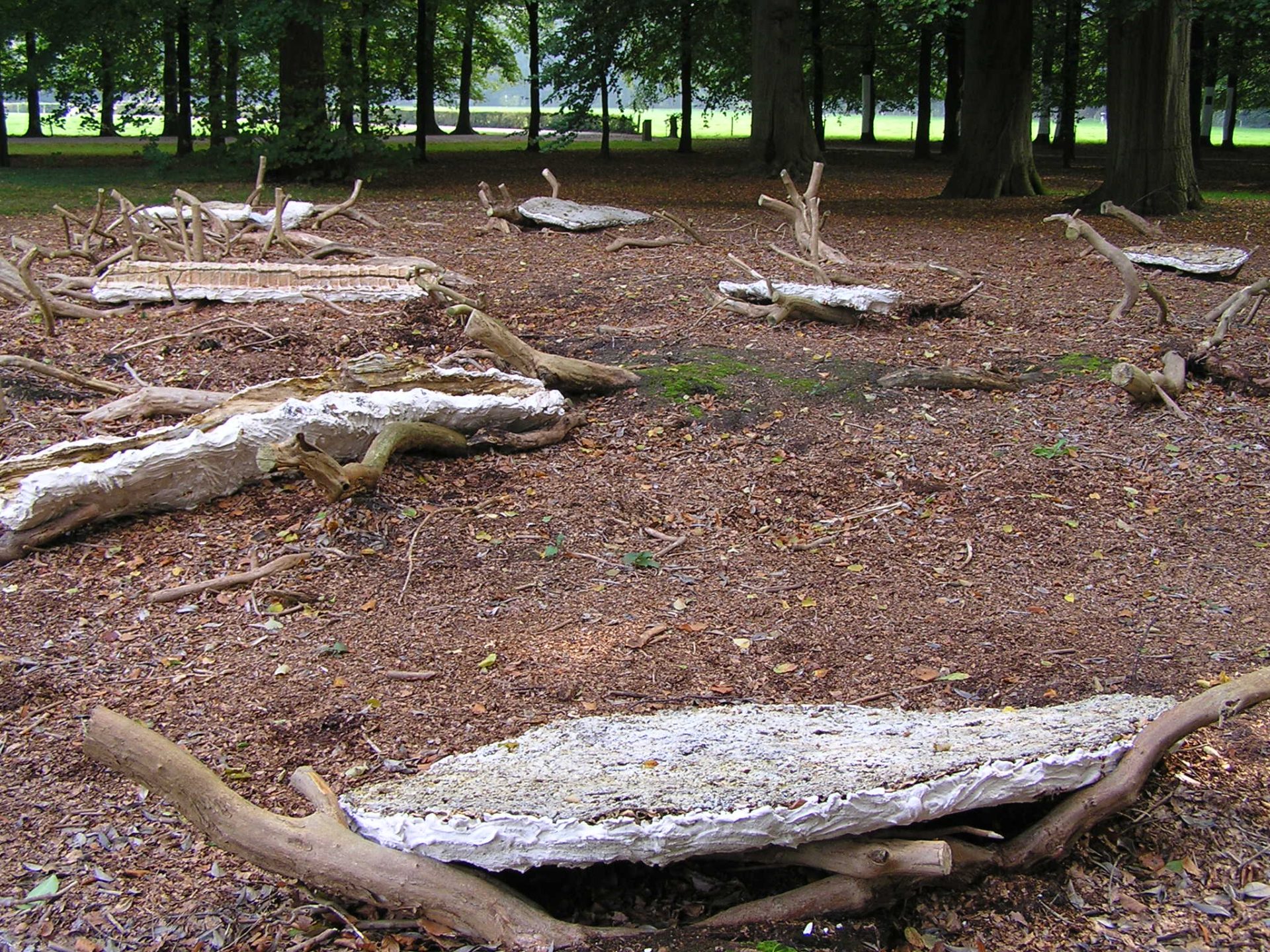 Open air exhibition 'Seen and being seen', at Castle Doorn, 2006
Commissioned by the province of Utrecht
Material: rubber with plaster supporting moulds
Size of the location with stumps of the rhododendron: 20×12 metres,
containing 8 prints, varying in size from 2.30 metres to 1.50 metres.

'The Skin of the Landscape'
So far, my work focused on the main lines of the landscape. By contrast, in the park of Huis Doorn I will look for the detail, the skin of the landscape.

Walking through the park I see the skin of trees of an old brick wall, of tracks in the sand. With rubber and plaster I make prints of these details. The prints have been collected in a bizar location. Everywehere, crooked stumps of rhododendron shrubs stick out of the ground. The plaster moulds rest against these stumps. Together, they make up a strange world. Taking a closer look, one discovers beautiful details, the skin of the landscape. One print is recognized easily, another remains enigmatic. Consider them a large landscape at micro scale.
___________________________________________________________________________________________
Dutch / Nederlands

Buiten-expositie "Zien en gezien worden" bij Huis Doorn, 2006
In opdracht van de provincie Utrecht.
Materiaal: rubber met gipsen steunmallen.
Afmeting locatie met stronken van de rododendron 20 x 12 meter met daarin 8 afdrukken, afmetingen variërend van 2.30 m. tot 1.50 m.

"De Huid van het Landschap"
Tot nu toe heb ik in mijn werk vooral gekeken naar de grote lijnen in een landschap. In het park van Huis Doorn onderzoek ik juist het detail, de huid van het landschap.

Lopende door het park zie ik de huid van bomen, van een oude stenen muur, van sporen in het zand. Met rubber en gips maak ik afdrukken van deze details. De afdrukken zijn verzameld op een bizarre locatie. Overal steken kromme stronken van rododendronstruiken uit de grond. De gipsen mallen rusten tegen deze stronken aan. Te samen vormen ze een vreemde wereld. Dichterbij kijkend zie je prachtige details, de huid van het landschap. De ene afdruk herken je snel, een andere blijft raadselachtig. Zie ze als een groot landschap op microschaal.