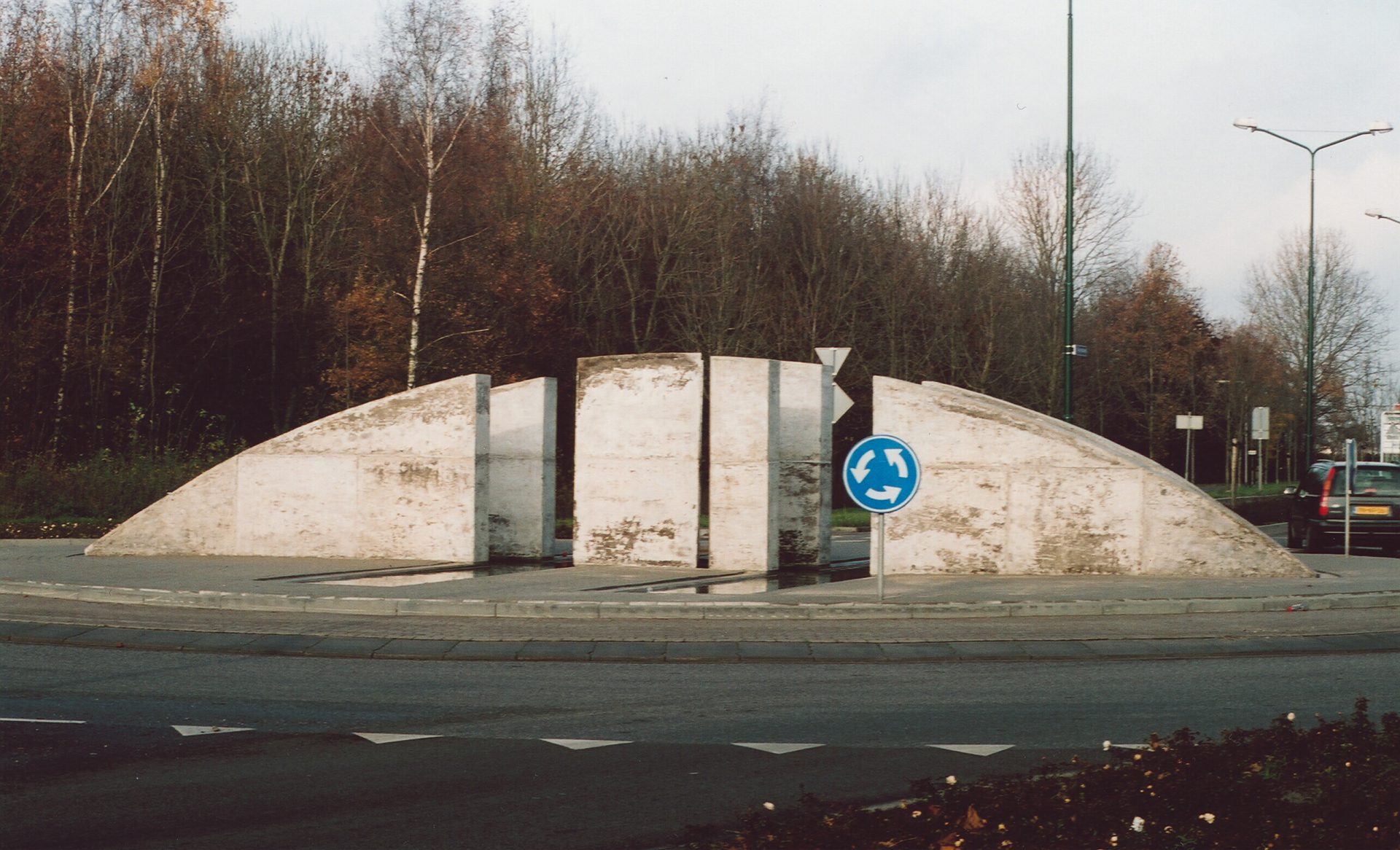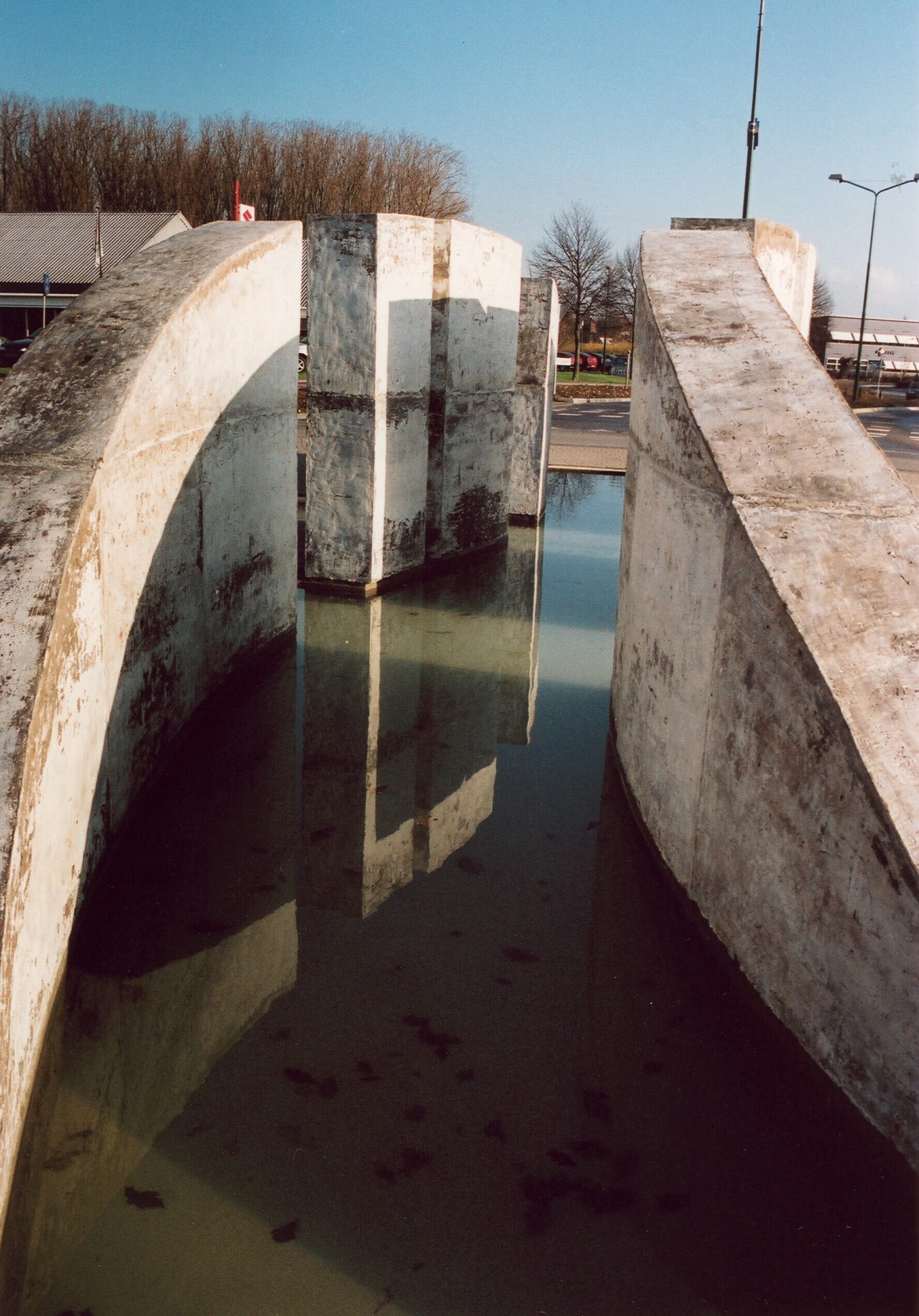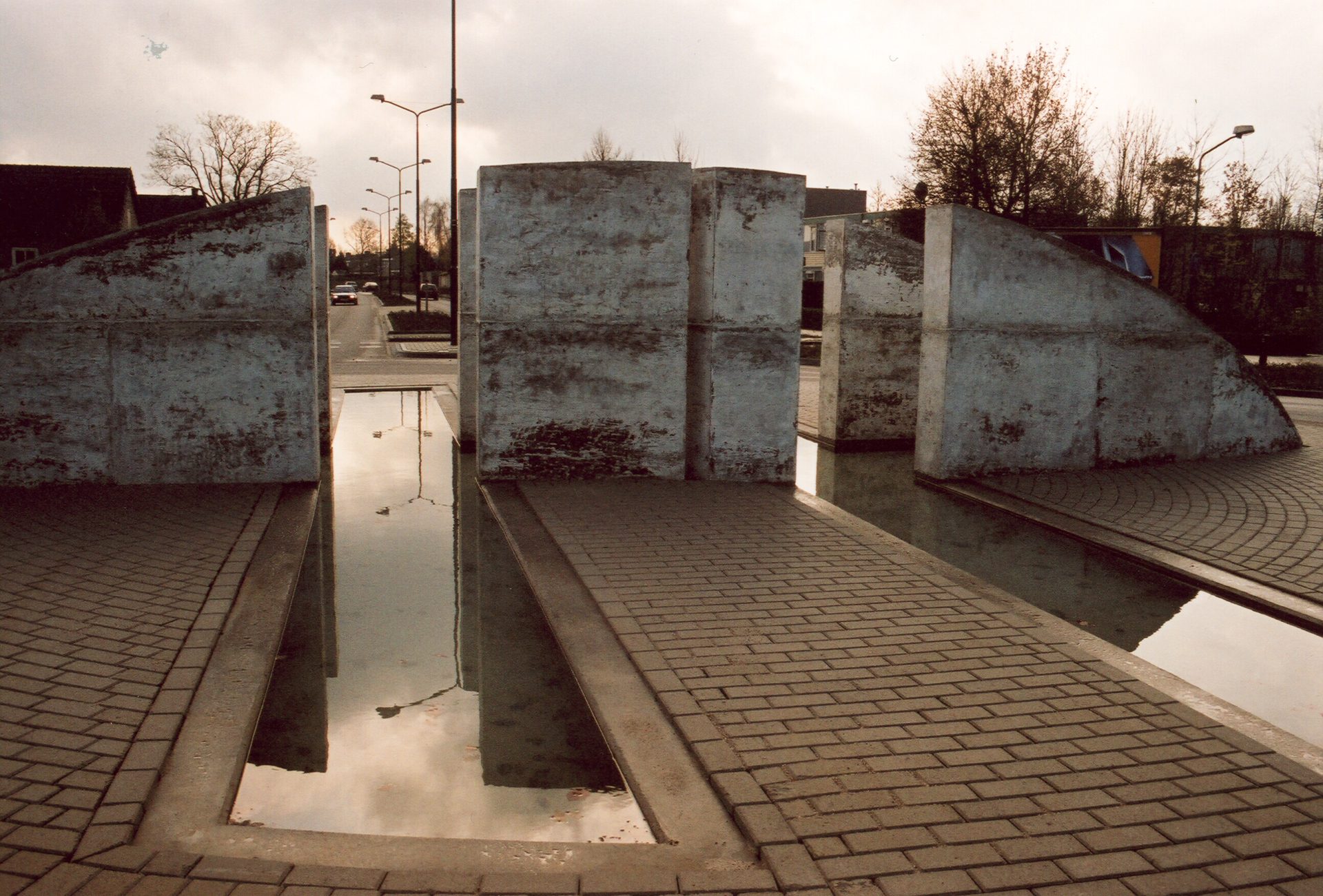 Art work commissioned by the local authorities of Boxmeer, The Netherlands. 2000
Aluminium concrete, 12 metres in diameter, 2 metres in height

For my design I started from the situation on site: the course of the roads and the most characteristic and historic feature of Boxmeer, the river Maas.
The work is like an extension of the roads that intersect at the roundabout. One road, coming from the motorway and leading to the town centre, is straight. On the central circle of this roundabout this road is prolonged, as it were, by two straight open waterways. These waterways refer to the new modern landscape. The other road arrives at the roundabout with a graceful bend. This bend is prolonged by a waterway that crosses the central circle with two bends. This waterway is reminiscent of the river Maas, which makes a wide swing past Boxmeer. It evokes memories of the landscape as it used to be. The meandering waterway is lined with two rising walls. Seen from the straight road these walls form a geometric arc that corresponds with the linear form language of the straight road. Seen from the meandering road the walls make a natural movement. The walls lend the meandering waterway an enclosed character.
Driving over the roundabout one gets constantly changing views and perspectives of the art work.
______________________________________________________________________________________________
Dutch/ Nederlands
Kunstwerk in opdracht van de gemeente Boxmeer, 2000
Aluminiumcement, doorsnede 12 meter, hoogte 2 meter

Bij het ontwerpen ben ik uitgegaan van de situatie ter plekke: de loop van de wegen en het meest karakteristieke en historische van Boxmeer, de rivier de Maas.
Het kunstwerk sluit aan op de wegen die elkaar op de rotonde kruisen. De ene weg, afkomstig van de snelweg naar het centrum is rechtlijnig. Op de middencirkel van de rotonde wordt de weg als het ware doorgetrokken door twee rechte open waterbanen. Deze verwijzen naar het nieuwe moderne landschap. De andere weg komt met een mooie slingering op de rotonde aan. Deze slingering wordt doorgezet met een waterbaan die met twee bochten over de middencirkel heen gaat. Deze waterbaan doet denken aan de Maas die met een brede slingering langs Boxmeer loopt. Het roept de herinnering aan het oude landschap op. De slingerende waterbaan wordt begeleid door twee opgaande muren. Vanaf de rechte weg gezien vormen de muren een geometrische cirkelboog, die aansluit bij de rechtlijnige vormentaal van de rechte weg. Vanaf de slingerende weg gezien maken de muren een natuurlijke beweging. De slingerende waterbaan is door de muren besloten van karakter.
Rijdend op de rotonde heeft het kunstwerk steeds totaal verschillende gezichtspunten en verrassende doorzichten.